How did you spend your 4th of July? Fireworks? Family? Food?
I rode bikes inside Walmart while wearing my spurs (the boys were bike shopping), riding horses and visiting with friends.
One thing I miss doing with my horses is going to parades. I haven't ridden in a parade for many, many years…I would have to ask my mom when the last one was!
Have you ever ridden in a parade? How did your horse handle the situation?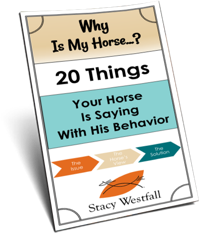 FREE PDF DOWNLOAD
WHY IS MY HORSE...?
Free PDF Download "Where is my horse...?"
20 things your horse is saying with his behavior.