Compared to packing up our house we had lived in for 14 years, packing the apartment has been a cinch. Our biggest challenge this time is that we brought
stuff from Ohio to Texas in two trips…but we only want to make one trip back.
I have been packing the trailer in my head for the last week but we really only started packing last night. We would have started earlier but the horse trailer was in for a check up and the van needed the air conditioner replaced.
What was the first priority when we were able to start? The tack of course! I had to laugh after we had been packing for an hour and hadn't even touched the apartment. I love the couch we bought while we were down here (Craigslist) but I joked that either the couch could come or a horse…and I'm taking my horses! (Craigslist again)
Packing is a great way to inventory things; both horse and human. I have more halters than horses…is this normal? I also have better medical records on them than I do my own children. Hmm…
Ziplock has become my new favorite packing tool. I have sandwich baggies for jewelry so it won't tangle, freezer bags for keeping cords straight and matched up with their device and I just found the giant 'space bags.' Simply put your items in the bag, use a vacuum to suck all the air out and watch it shrink! Now I have Ziplocked my leather jackets on hangers, my bedding so it took up less space and the
towels just because I couldn't stop. I am excited to see what happens to the pillows in the morning!
Too bad I already packed the horses blankets on the last trip…I bet I could have 'zipped' them down several sizes.
Throughout the day I found myself swaying between excited and somber. Leaving Ohio I expected to have conflicting emotions. We have only been living here four months so I didn't expect to feel this way. Was it the horse culture? The friendly people? The weather? This is interesting information to ponder.
When we moved down here I was worried about tornadoes. To be safe I downloaded two different apps to warn me of bad weather while I was in Texas. Then in May I went back to Ohio for a visit. In the middle of the night my phone started giving me warnings. Half asleep I thought, 'I need to call Jesse and warn him,' then I realized that the warning was for ME!
Three times on that trip to Ohio I was under a tornado warning…in Ohio! I guess if something is going to get me it will find me no matter where I am.
On a funny note-my boys thought this photo, posted under the comments about my shower spider, was extremely humorous, lol.
Now, back to packing.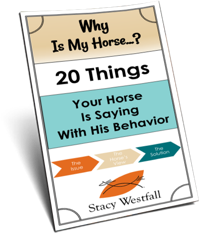 FREE PDF DOWNLOAD
WHY IS MY HORSE...?
No one taught you the skills you need to work through these things.
Riders often encounter self-doubt, fear, anxiety, frustration, and other challenging emotions at the barn. The emotions coursing through your body can add clarity, or can make your cues indistinguishable for your horse.
Learning these skills and begin communicating clearly with your horse.
Click here to learn more.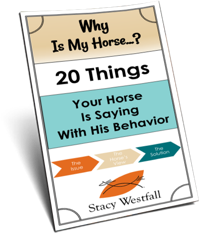 Free PDF Download "Why is my horse...20 things your horse is saying with his behavior"
PDF will be delivered to the email address you enter as will weekly tips from Stacy. Totally free. Unsubscribe anytime.