As I was answering emails today, I came across these questions from a high school student.
What is some advice for those who are just starting to work with their horse?
Spend lots of time. Ride with, hang out with, and watch people who are successful in the way you define successful with horses.
Do you have any thoughts on the use of essential oils or herbs?
I have an essential oil diffuser running right now with Peppermint & Thieves (Young Living). In the barn, my horse chiropractor/acupuncturist left me a blend for the horses:)
What do you usually say in response to negative responses to your methods?
People are welcome to their opinions. Many of these go back to my answer to question#1, which is how they define success. Thankfully, I haven't had a lot of negative response to my methods. Sometimes there are trolls on the internet but they seem to be having a generally bad day vs attacking any specific method.
What tips do you have for new or current horse owners to develop a better relationship with their horses?
Realize that your horse will likely behave somewhat like your children or your dog. Boundaries are boundaries and when they are healthy they produce certain results across the board. Horses love consistency and will test the boundaries more often with inconsistency…which makes everything even tougher. Figure out solid basics first such as respecting each others space and focused attention. Mastery of the basics leads to success.
If you could have your questions answered, what would you ask?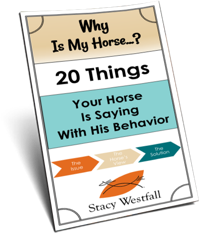 FREE PDF DOWNLOAD
WHY IS MY HORSE...?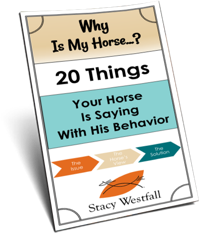 Free PDF Download "Why is my horse...20 things your horse is saying with his behavior"
PDF will be delivered to the email address you enter as will weekly tips from Stacy. Totally free. Unsubscribe anytime.