Dear Mom,
This must be the Con-ger-us place again. Last year, I thought you had signed me up to be a circus horse when I saw the big blue and white tent. I really wanted to meet an elephant.
It was pretty boring after you left last night. Who pays the light bill here? They never shut off the lights….
Things got better today. Those other horses we go ride with and their people came to see me. Newt and I have always wanted to play but you guys always have us saddled and bridled when we meet.
It turns out he likes the same games I do! We played 'can-I-bite-your-lips-while-you-try-to-bite-my-tongue' like we have been doing it all of our lives! I won.
Your Pony,
Louis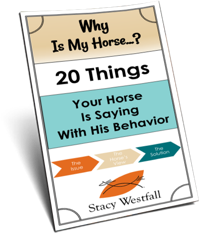 FREE PDF DOWNLOAD
WHY IS MY HORSE...?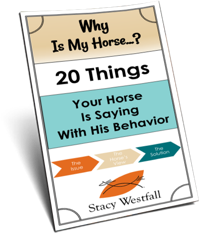 Free PDF Download "Why is my horse...20 things your horse is saying with his behavior"
PDF will be delivered to the email address you enter as will weekly tips from Stacy. Totally free. Unsubscribe anytime.