I clearly need to tell my story sometime…from the beginning.
Would it surprise you to know:
I grew up in a family that struggled to make ends meet daily.

I attended two clinics and took less than 20 lessons before attending a college.

The first 5 years of our marriage we made less than $20,000 per year (while working 14-16 hour days 'real jobs' and horses).

We had 3 kids in the first four years of our marriage.

We received food stamps early in our marriage.

We trained & showed other peoples horses because we couldn't afford to train & show our own.
Would it surprise you to know:
We started training horses by renting stalls at a boarding barn while both working full time jobs.

We worked the 'horse job' as a side job for six years before it became a 'real job.'

Before becoming 'famous' my husband and I had a waiting list for horses to come into training…due to our reputation locally. 

When we stopped training horses we had a 2 year waiting list!

There is still a demand that is not filled for horse trainers who have compassion, honesty and ability.
I have a desire to help people get started in the equine industry. I have connections to find information and to share it with you. I need to hear your stories so I can know how to best help. If you are someone with an interest in getting started or improving your horse career then please, tell me your struggles. I've probably been there. 
If you know someone who would benefit from this please share so they can get involved. There is still room in this industry! It is possible…not easy…but possible!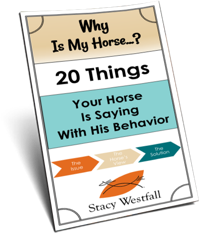 FREE PDF DOWNLOAD
WHY IS MY HORSE...?
No one taught you the skills you need to work through these things.
Riders often encounter self-doubt, fear, anxiety, frustration, and other challenging emotions at the barn. The emotions coursing through your body can add clarity, or can make your cues indistinguishable for your horse.
Learning these skills and begin communicating clearly with your horse.
Click here to learn more.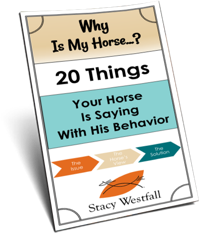 Free PDF Download "Why is my horse...20 things your horse is saying with his behavior"
PDF will be delivered to the email address you enter as will weekly tips from Stacy. Totally free. Unsubscribe anytime.