Hello, 
My name is Presto and my mom says I need a job. 
She's not my real mom but thats not what I'm supposed to write about today. I'm supposed to write about who I am. 
My name is Presto and I like to call myself 'the horse who lived.'
Mom has an audio book she listens to when she is in the barn and the story is about 'the boy who lived.' 
He can't remember his parents and neither can I.
He has a lightning scar on his forehead. I have a scar on my forehead.
He does magic and my name is Presto.
As you can tell, we are practically the same. 
Well, except he's a boy and I'm a horse. 
I'm supposed to include my age: 15 months.
My best friend: Lincoln.
My favorite thing: green grass. 
My least favorite thing: horse flies. 
Mom says I should tell you that you can write back. 
I have to write again next week (she's making me do this)
The horse who lived,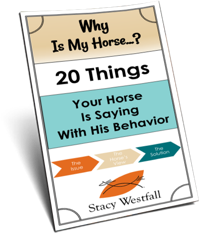 FREE PDF DOWNLOAD
WHY IS MY HORSE...?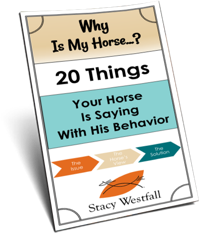 Free PDF Download "Why is my horse...20 things your horse is saying with his behavior"
PDF will be delivered to the email address you enter as will weekly tips from Stacy. Totally free. Unsubscribe anytime.