"This is my 8 year old Quarter horse gelding Teddy. I adopted him over the summer

from a horse rescue. The rescue I got him from said that his previous owners had neglected and abused him. I have been working with him since I've had him and have started him under the saddle. He was very head shy at first, now he has gotten better but still mouth shy(won't allow anything near his mouth without a fuss) and he blows up like a bronc when he is spooked. He is a very sweet horse but I am fearful that he will potentially hurt himself or me while riding. He has bucked me off out of fear of a hay tractor, he has really hurt me from this fear induced bucking. I have done ground work with him since he has been with me but I feel like I am getting no where fast. Do you have any suggestions on working with and training a horse that is fearful of everything due to abuse? I can see so much potential in him if he could just get past his fear. If I am not being specific enough please let me know. Thank you for all the help you can give! "-Charitee P.
Such a sad story…and unfortunately it is not uncommon. Often working with abused animals takes much more time. Because of the abuse they can have 'flashbacks' that a horse who had never experienced mistreatment cannot have. Innocent horses don't carry around that baggage.
.
Although it is often time consuming, helping a horse overcome these issues can also be very rewarding. When I have worked with these horses and felt like I was becoming discouraged because of all the extra time involved, I enjoyed turning it into a math problem. If the average 'un-abused' horse took me two days to accomplish a specific goal and the 'abused' horse took me two weeks….I was able to use that ratio as a guide for that abused horses 'normal'. It was a little trick to remind me to go slower with those horses; almost like giving myself permission which prevented frustration.
.
One unexpected side benefit of working with previously abused horses that I discovered has been that when you do earn their trust they often view you more as a 'savior' than the average horse. The last horse I 'saved' caused my husband to often tease me. He said that when I walked into the barn the horse got 'puppy dog' eyes…like he was in love with me. And he did. The horse really viewed me as his savior.
.
Taking extra time, finding someone experienced to ride with and many, many hours all go into a successful rehab. If you are concerned about your safety please get hands on help. Some horses never fully recover. Some horses do. Yes, abused horses are often time consuming but they can be very, very worth it.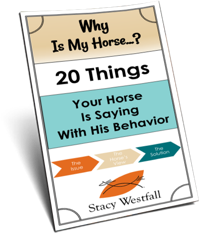 FREE PDF DOWNLOAD
WHY IS MY HORSE...?
No one taught you the skills you need to work through these things.
Riders often encounter self-doubt, fear, anxiety, frustration, and other challenging emotions at the barn. The emotions coursing through your body can add clarity, or can make your cues indistinguishable for your horse.
Learning these skills and begin communicating clearly with your horse.
Click here to learn more.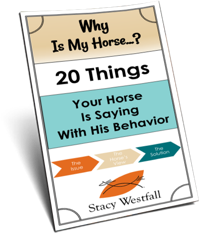 Free PDF Download "Why is my horse...20 things your horse is saying with his behavior"
PDF will be delivered to the email address you enter as will weekly tips from Stacy. Totally free. Unsubscribe anytime.