A year of working….a short time to show what you have done…an announcement of the winner and then straight into the round pen to compete for $100,000.00!
That is what will happen to one of this years 'Wild Card' competitors at the Road to the Horse.
I had the chance to visit with several of the competitors yesterday and learn more about the process. I knew that last years Wild Card, Jim Anderson, not only won the Wild Card but also turned around and won the Road to the Horse. As impressive as that sounded to read (I wasn't there to see it either) imagine what it must have been like to live it. Both emotionally and physically this would be a challenge. They have to come in prepared with the horse they have been training for the last year and a plan on how best to show him, then they also must be prepared to step straight into the second part of the competition. Imagine the planning that has gone into packing and preparing without knowing for sure if they will be moving on.
This years competitors are: Trevor Carter, James Cooler, Dan Keen, Mary Kitzmiller, Bobby Knight, Sean Patrick. Check out their websites and their Facebook pages. They have been documenting the training of their Wild Card horses as well as much more.
BREAKING NEWS: Road to the Horse 2015 is thrilled to be joining the RFD-TV line up! Don't miss the action starting April 1st, 2015 @ 9:00pm ET/8:00pm CT. (DirectTV 345/ Dish 231)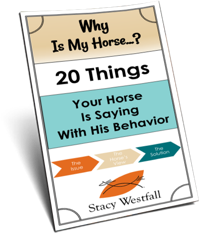 FREE PDF DOWNLOAD
WHY IS MY HORSE...?
No one taught you the skills you need to work through these things.
Riders often encounter self-doubt, fear, anxiety, frustration, and other challenging emotions at the barn. The emotions coursing through your body can add clarity, or can make your cues indistinguishable for your horse.
Learning these skills and begin communicating clearly with your horse.
Click here to learn more.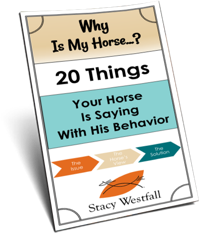 Free PDF Download "Why is my horse...20 things your horse is saying with his behavior"
PDF will be delivered to the email address you enter as will weekly tips from Stacy. Totally free. Unsubscribe anytime.