What was it that made you fall in love with horses? Have you always dreamed about them from the time you were little or did you find them later in life?
The answers to this question always fascinate me. I have loved equines of all shapes and sizes from the time I was little and my desire to be with them has never changed. I know other people who rode for awhile and then moved to other hobbies.
I have also known people who have come to love them later in life. The first million dollar rider in the NRHA was said to have mounted up for the first time when he was twenty-three years old. I love that fact, not because money is the measure of success but because it just proves that you don't have to start young to succeed.
Sadly, there are people that I see riding horses that make me wonder why…because they don't seem to enjoy the horses at all. Often these people are focused on using the horse to reach an end goal such as winning at a horse show. I would guess that these people, at one point, rode horses because they enjoyed it. Would someone start riding for any other reason?
People aren't perfect and horses aren't either but if you can remember why you started it just might be the same thing that keeps you going.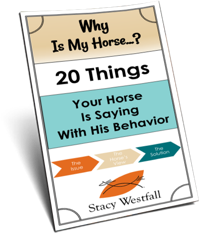 FREE PDF DOWNLOAD
WHY IS MY HORSE...?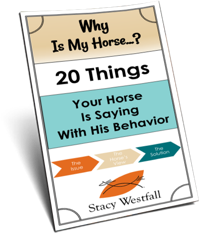 Free PDF Download "Why is my horse...20 things your horse is saying with his behavior"
PDF will be delivered to the email address you enter as will weekly tips from Stacy. Totally free. Unsubscribe anytime.