You can't out pull a horse. This seems like an obvious statement but there is a good chance, if you stop and think about it, you have probably tried to at some point during your interaction with horses.
Ponies are practically famous for having moments when they say 'no' and refuse to go forward. Is this a coincidence or is this because their 'trainers' tend to be small children who don't fully understand the ideas of pressure and release?
Can you picture a time where you have seen a human trying to out pull a horse? Maybe the person was trying to lead the horse from one surface to another, for example from gravel to black top. Or maybe they were trying to lead the horse from outdoors into a building. When I was a kid I had a mare that refused to walk into a big old barn with a wooden floor that housed cattle beneath it. Or maybe you have seen someone trying to out pull a horse when loading into a trailer.
One popular answer to this issue is to stop trying to lead the horse forward and 'drive' the horse forward instead. It is a popular choice for good reason. It is a great training tool and should be used by everyone. But does this mean we must give up on leading also?
Leading is closely related to tying. If you find your horse having moments where he says 'No' during leading and you must switch to driving you should be a little concerned that this refusal will eventually pop up in the area of tying.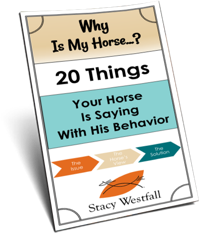 FREE PDF DOWNLOAD
WHY IS MY HORSE...?
No one taught you the skills you need to work through these things.
Riders often encounter self-doubt, fear, anxiety, frustration, and other challenging emotions at the barn. The emotions coursing through your body can add clarity, or can make your cues indistinguishable for your horse.
Learning these skills and begin communicating clearly with your horse.
Click here to learn more.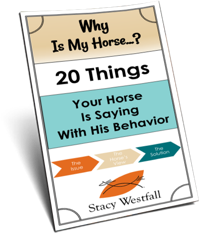 Free PDF Download "Why is my horse...20 things your horse is saying with his behavior"
PDF will be delivered to the email address you enter as will weekly tips from Stacy. Totally free. Unsubscribe anytime.