We get a lot of responses on our blog when horse slaughter is a topic. One thing that keeps coming up is that the "big breeders" are to blame. However, I've been to quite a few of the 'killer sales' and I have yet to see a horse go through the sale pen with current and popular breeding. Instead what seems to be coming through the pen, that I see, are what seem to be a lot of back yard experiments, someone crossing this breed of horse with that breed.
To be honest there really isn't much of a market for these horses especially if they don't get a good education. I'm not saying current and popular bloodlines never go through I'm just saying that I haven't seen them. Have you? What do you think?
written by Jesse Westfall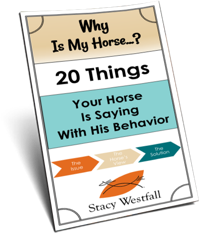 FREE PDF DOWNLOAD
WHY IS MY HORSE...?
No one taught you the skills you need to work through these things.
Riders often encounter self-doubt, fear, anxiety, frustration, and other challenging emotions at the barn. The emotions coursing through your body can add clarity, or can make your cues indistinguishable for your horse.
Learning these skills and begin communicating clearly with your horse.
Click here to learn more.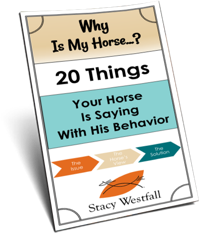 Free PDF Download "Why is my horse...20 things your horse is saying with his behavior"
PDF will be delivered to the email address you enter as will weekly tips from Stacy. Totally free. Unsubscribe anytime.