Who needs insurance for their horse? This is the question that I asked and insurance agent. What do you think he said?
I was expecting him to say "everyone" but to my surprise he didn't.  His answer was, "If you can't write a check to replace the horse, then you should consider insurance."
Hum, this sounded a lot like the training I had received about insurance when I took Dave Ramsey's Financial Peace class. And it was fairly similar to advice I have given over the years.
I have never, personally, insured a horse…but I have recommended that other people do. Why the difference?
The last person I helped walk through this decision was a lady who had been saving up to buy a really nice reining horse for several years. She purchased a horse that was ready to show for about $20,000. What she had purchased was a sane, sound and ready to show horse that had several years of training with a professional. She had also purchased a friendly, kind horse that was a joy to be around. Insurance would not be able to help her through the pain of losing her horse but it would give her the ability to purchase one trained to the same level again.
The most valuable horse I have personally owned was my stallion, Vaquero. I purchased him when he was three and he died at the age of six. I had considered insuring him but I chose not to. My reasoning was that I could not walk out and buy another one that was trained to his same level. If something were to happen to Vaquero then I knew I would be starting from scratch with another horse and would be investing years in training. Essentially, I could have insured him for his 'raw' value, the untrained value, but either way I was going to be putting in the time again.
I had no idea that I would lose Vaquero so young. He died in 2012 and I just now –almost -have a horse trained to that level again. Although I didn't have insurance I did have the 'next' horse already standing in the barn, Newt. Insurance would have paid me for my time but nothing can help me know if the horse I am investing my time in will ever reach bridleless competition level.
Do I regret not having Vaquero insured? Yes…and no. The money would have helped pay for the vet bills that I ran up trying to save him and it would have given me the opportunity to possibly purchase another young prospect. But, there was one moment where I was very happy NOT to have insurance.
THE FOLLOWING is not a reason to skip insuring…but I do wish I had been more emotionally prepared.
When things were looking really bad for Vaquero and we were at the vets they have to try to tell you how bad it is. One of the ways they tell you is they will say, "Insurance company guidelines will allow…" and this makes sense. You don't want vets declaring horses beyond saving…if they really aren't. But when the vets told me that, had Vaquero been insured, the insurance company would have approved euthanizing…I remember feeling conflicted. There was a moment where I was glad that he wasn't insured because I WANTED the feeling of loss and I didn't want a feeling of gain. I didn't want to wonder why I made the choice.
In hindsight this was a very emotional reaction at a very emotional time, but I am still thankful that I experienced it. I know I made the choice I would have made either way. Maybe in the future I will have an insured horse and will have to make the same decision again. I really hope I'm NEVER in that situation again though. Maybe it will benefit someone who reads this though. From my experience when the vets say it is this bad…it is bad.
The majority of horses that I have had in training over the years have not been insured. Do you have your horses insured? If so, what are they insured against?
*               *                 *
Vaquero after his second trip to the vet, just before his last trip to the vet.
Vaquero six months earlier.
For the rest of Vaquero's blogs: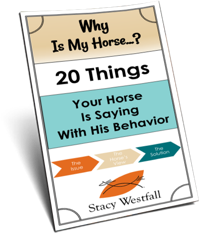 FREE PDF DOWNLOAD
WHY IS MY HORSE...?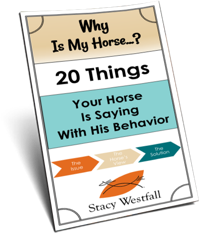 Free PDF Download "Why is my horse...20 things your horse is saying with his behavior"
PDF will be delivered to the email address you enter as will weekly tips from Stacy. Totally free. Unsubscribe anytime.