Inspiration strikes…hopefully followed by action.
Although I often find that action is require first, and inspiration then follows. 
Lets break this down because that may have been a bit confusing.
EXTERNAL inspiration, watching someone do something amazing with their horse, often feels…inspiring. 
But how many people take action?
A few. But not as many as you would guess. Which is why people can get addicted to watching inspirational things. Those little doses of inspiration 'feel' like something is happening. With very little risk of failure.
Action comes with results. Results come with the possibility of failure. 
So it seems safer to watch inspirational things, rather than to take action and risk failure.
I dare you to take action. I dare you to fail. To learn. And to take more action.
For fun, sprinkle in some inspiration from outside sources 🙂
P.S.- My mind is racing with approximately 10 ideas a minute right now…which feels more like 1,000 which has inspired this post. I'm partly inspired because we are headed to the NRHA reining futurity to coach and support a customer who is living out a goal that she set years ago. It has been a long, long road and I'm so proud of her.
It is also inspired by a small notebook I bought for 50cents at the Dollar Store. I wrote 'Black Friday Ideas' on it and turned my mind loose. No idea too crazy to write down…wow, the floodgates are open!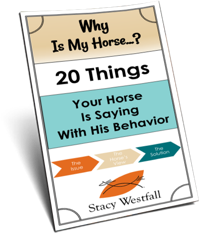 FREE PDF DOWNLOAD
WHY IS MY HORSE...?
No one taught you the skills you need to work through these things.
Riders often encounter self-doubt, fear, anxiety, frustration, and other challenging emotions at the barn. The emotions coursing through your body can add clarity, or can make your cues indistinguishable for your horse.
Learning these skills and begin communicating clearly with your horse.
Click here to learn more.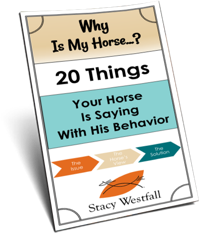 Free PDF Download "Why is my horse...20 things your horse is saying with his behavior"
PDF will be delivered to the email address you enter as will weekly tips from Stacy. Totally free. Unsubscribe anytime.