This is the question I keep asking myself. How can I help you?
What do I have to offer that would be of value to you? What have people asked for? 
Thankfully many of you have been vocal. I get emails, messages and face to face requests. Many subjects are covered but ONE theme runs through them all. 
"I have questions I would like to ask you."
Over the years I have answered thousands of questions. There are nearly 1,000 blog posts on this site alone! Yet, it still isn't the same as being able to ask your question face to face. The 'back and forth' of a normal, natural conversation is missing when you read the answer. 
I'm looking to improve this system in 2018. 
With your help, your input and your feedback I would love to solve this challenge.
The first two ideas I have are online workshops and One-on-One Coaching/Mentoring calls. Please, click through to read more about either one and then give me some feedback at westfallhorsemanship@gmail.com. 
My clinic schedule for 2018 is nearly ready to publish…but a little quick math reveals that there will not be many spots to ride with me. I limit my clinics to 4 people (yes, only four) so that we can accomplish a lot…but it really limits the number that can ride with me during the year. 
I love teaching. I love helping people and horses…and want to help more of you in 2018!
I'd love to hear your feedback. Lets finish 2017 strong and BOLDLY move into 2018!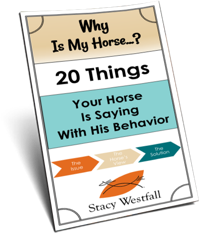 FREE PDF DOWNLOAD
WHY IS MY HORSE...?
No one taught you the skills you need to work through these things.
Riders often encounter self-doubt, fear, anxiety, frustration, and other challenging emotions at the barn. The emotions coursing through your body can add clarity, or can make your cues indistinguishable for your horse.
Learning these skills and begin communicating clearly with your horse.
Click here to learn more.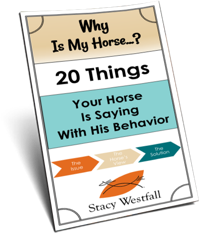 Free PDF Download "Why is my horse...20 things your horse is saying with his behavior"
PDF will be delivered to the email address you enter as will weekly tips from Stacy. Totally free. Unsubscribe anytime.