You have to start somewhere. All riders do. Maybe it was a pony ride when you were a kid or maybe it was riding a friends horse for the first time when you were in your 40's but all of us started riding somewhere.
And it wasn't pretty.
And it probably went something like this: pull on the left rein to go left, pull on the right rein to go right, pull on both to stop and kick to go.
Hey, they had to start you out somewhere. And you weren't coordinated. I'm not as concerned about where you started out as I am about where you are headed now. If you're reading this then there is a pretty good chance you are trying to better yourself as a rider. To understand your horse more. That's great!
So todays question is: Do you ride with 'feel' in your whole body? What is feel (here is a blog about it)? Do you have it? How can you get it? Are you working on improving it?
One description of 'feel' if you google it is: to be or become conscious of.
Are you conscious of your whole body when you ride? Are you aware of where your eyes are looking, how much pressure you have on each seat bone, of your horses footfall and path of travel? Yes, each one of these is something that you should be conscious of. First you will learn to be conscious of each one individually…then two at a time…and eventually all at the same time.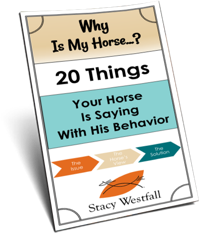 FREE PDF DOWNLOAD
WHY IS MY HORSE...?
No one taught you the skills you need to work through these things.
Riders often encounter self-doubt, fear, anxiety, frustration, and other challenging emotions at the barn. The emotions coursing through your body can add clarity, or can make your cues indistinguishable for your horse.
Learning these skills and begin communicating clearly with your horse.
Click here to learn more.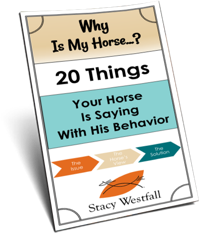 Free PDF Download "Why is my horse...20 things your horse is saying with his behavior"
PDF will be delivered to the email address you enter as will weekly tips from Stacy. Totally free. Unsubscribe anytime.