Some of you have asked me to continue to update you on Vaquero. I thought you might find these two videos interesting. The first is what Vaquero looked like when we walked in Thursday night to feed him. Try to imagine what you would be thinking if this is what your horse looked like. Please forgive me for the music…I was crying so hard that I decided to remove the audio and the only way I could figure out how to do that was by adding audio.
The only reason I thought to video this time is because he had looked slightly unsteady ten days before and I have regretted that I didn't video it.
I had made a video two days earlier (below). He wasn't quite right but no where near as bad as now.
You can image that if I was concerned with the way he looked when he was lunging that I was devastated when I saw him come out of the stall so much worse. He is being closely monitored and has a myelogram scheduled for Monday. I will keep you posted.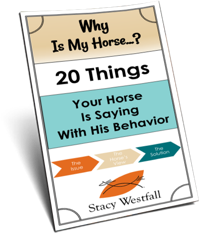 FREE PDF DOWNLOAD
WHY IS MY HORSE...?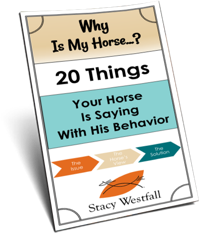 Free PDF Download "Why is my horse...20 things your horse is saying with his behavior"
PDF will be delivered to the email address you enter as will weekly tips from Stacy. Totally free. Unsubscribe anytime.