Snow, snow, go away and come back…next year!
In our travels this year we have managed to avoid snow for most of this winter but we are headed to The Michigan Horse Expo  March 13th-15th and I'm hoping for NO SNOW.
I like the snow…at least some snow…but there are a few drawbacks that come with it. Frozen water buckets, wind chill and slippery footing can be an issue (check out my blog: What you would recommend for de-icing walk ways for horses?
I have even seen a crust form on the top of snow that was sharp enough to cause horses legs to be rubbed raw from simply walking. What do you consider to be the worst part of keeping horses in snowy weather?
Lets get that last big rant against winter over with! Horses are shedding which means that spring is just around the corner…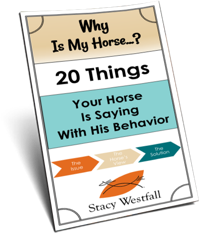 FREE PDF DOWNLOAD
WHY IS MY HORSE...?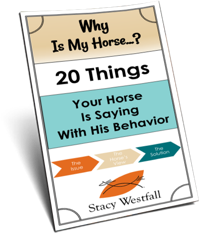 Free PDF Download "Why is my horse...20 things your horse is saying with his behavior"
PDF will be delivered to the email address you enter as will weekly tips from Stacy. Totally free. Unsubscribe anytime.