"Hi Stacy. I enjoy following your travels and respect your advice. I have just purchased a 2 year old paint horse that I plan to show. It seems there are a variety of opinions as to how soon to ride or work a young horse. I would greatly appreciate your input."-Marie B
The biggest thing to keep in mind is that each horse in an individual. If you watch Stacy's Video Diary: Jac, I started him when he was a two year old. He was a Quarter Horse…but that doesn't mean that all Quarter Horses could be started at that age. The bone development, family history, bloodlines, and the amount of work that will be required all play a part in making the decision.
"Hi Stacy! I have a question that has been subject to many arguments between my mom and I. I have a 2.5 yr old QH filly that I recently started under saddle. She had all ground work done when I started her and she is a very mellow minded girl. My mom believes 2 is too early to start them and is concerned about her joints and I was wondering about your opinion on the best age to start a horse since I have never started a horse or raised a young horse? At the moment I am just doing light trail rides, no longer than 15 minutes on flat ground, with her twice a week. And note that she is around 14.3hh and is a brick house, weighing close to 1000#s.  🙂    Thank you so much in advance for an advice you can give." H. H.
The answer to this question is found in the blog: What is the best age to start a horse?
 "Hi Stacy, just wondering what age you start training horses. I have a foal who will turn 2 in January. I am trying to sort out a training plan and am wondering how many hours a day or week you would spend on training. Also what you would do regards to training a foal. A lot of people have told me to just leave her alone until she is 3 because she will be a dangerous horse if I start to early. She can be quite cheeky while in the paddock tending to the other horses while feeding out hay, but I just ignore that. Maybe I shouldn't have her running with the other horses??? Any help you could offer would be greatly appreciated." -Brenda W
The answer to this question is found in the blog: What age do you start training?
"I have an 18 mo old colt and hope he'll make a great kid pony in a few years. He's currently 12.2 hh and 500lbs, so I don't expect him to get very big. What can I do with him on the ground over the next few years to get him ready to ride? When the time comes to saddle and ride him, how do I go about that, with him being so small?"-Ariella G.
The answer to this question is found in the blog: Starting a Pony Under Saddle
ttp://www.youtube.com/watch?v=QBiv66nAvj4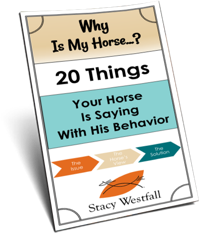 FREE PDF DOWNLOAD
WHY IS MY HORSE...?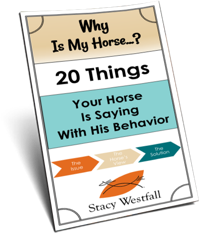 Free PDF Download "Why is my horse...20 things your horse is saying with his behavior"
PDF will be delivered to the email address you enter as will weekly tips from Stacy. Totally free. Unsubscribe anytime.