The best part is easy…the time you have with them!
And the worst part is the natural side effect of that time.
My first pony & first horse both lived into their 30's.
I loved knowing them as well as I did.
But I also watched as my pony struggled with a loss of vision and breathing issues.
With my horse, it was arthritis that gradually progressed making it difficult for her to get up when she would lie down to rest.
I've told Popcorn for years that he should be more kind to his body.
He runs in the pasture like he is coming down the home stretch at the Kentucky derby.
He jumps, bucks, kicks and puts on a show in the pasture.
Just a few years ago, people passing by in a car, slowed down to watch him in the field running like crazy and asked, "Is he even tame?"
When he was eleven I noticed subtle inconsistencies in his gait.
About once a month I could feel him take a strange step. Very, very minor but because I knew him as well as I did, I also knew it was abnormal. When I hauled him to the first vet they couldn't find anything. And neither could the second. Nothing but normal aging.
A year later I noticed the same thing but slightly more frequently. Now it was about twice a month. Again, so subtle that the vets couldn't trigger it during a flexion test and there was nothing noticeable on X-rays. However, I was starting to see changes in his behavior.
If he was having a bad day he wouldn't play in the pasture. He would watch the others running but he wouldn't join in. To the casual observer, this would be no big deal…but this was my Popcorn. And this was not normal.
Part of me was happy. Maybe he was finally listing to my advice and slowing down. Maybe he was taking care of his body.
And now, a few years later, I think that this was half true. I think a part of him has aged and is more content to watch at times. But I also think he was uncomfortable. There was a dullness in his eye I hadn't seen before.
When a friend suggested trying him on Equithrive Joint Pellets, I decided to listen. From what I had heard most people could see a difference within 30 days and it was easy enough to give.
Within two weeks it was possible to see changes. My crazy-perky-pasture horse was back! And strangely, the sensitivity in his ears was greatly reduced (Popcorn has had equine aural plaques from the time I bought him).
By the end of the first bucket, it was clear that the all-natural anti-inflammatory in the product was working on Popcorn's whole body.
I know there is no cure for aging but I'm happy to do what I can to keep him comfortable through the process.
Owning an aging horse is such a gift.
No, it isn't the same as the shiny new gift that you might find under the Christmas tree.
I'd like to thank
Equithrive
for sponsoring this contest with will end tomorrow at 3pm with one of YOU owning your very own Popcorn Breyer model!
Entering is easy.
There are three ways. Simply answer the question (What is the best (and worst) part of owning a 'forever' horse?)
either 1) in the comments below this post, here on my blog 
There will be a new question every day between now and December 19th.
The winner will be announced on December 20th!
I'm excited to read your stories! (and if you have time…reading what other people have posted is really fun!)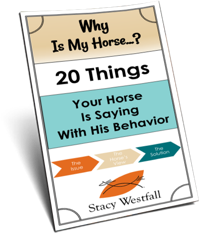 FREE PDF DOWNLOAD
WHY IS MY HORSE...?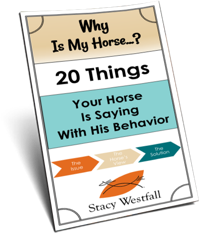 Free PDF Download "Why is my horse...20 things your horse is saying with his behavior"
PDF will be delivered to the email address you enter as will weekly tips from Stacy. Totally free. Unsubscribe anytime.