The newest twist to our crazy adventure is the three horse bumper pull trailer Jesse bought yesterday. The plan is to leave Ohio this week and head to Oklahoma City to visit the NRHA Reining Futurity and see Jac (yah!). Then we are headed on to New Mexico, Arizona and California. We will return to the Mid-West in March for appearances and to attend The Road to the Horse.
Today was a minor repeat of the packing process we went through last January and February when we were moving out of our house. I completely underestimated the amount of time it would take to move from our six horse trailer to the smaller one. About half way through our almost eight hour day of reducing and repacking I declared, "In a few years when we settle down we are going to be hoarders!" On some days (like today) it seems that life would be more simple if I didn't have to calculate the weight, shape and necessity of every item we have with us. That's the tough part. The easy part is that once we leave on this four month mini-adventure, house keeping and organization will be simple.
Some stuff was easy to leave behind but I had to laugh, we will be traveling this leg of our journey with only two horses…yet we packed four saddle pads (color options) and four sets of leg wraps (some with knee protection and some without). What is the bare minimum you would need if you had two horses traveling around with you? What horsey items would be on your 'must have' list if you had to reduce?
P.S.- The good news is that each time we repack it gets easier. Still tiring, but I guess it is like many other things…the more you practice the better you get at it!
…I'm gonna be an expert…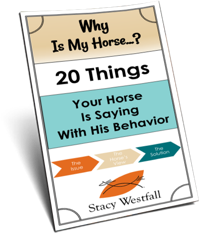 FREE PDF DOWNLOAD
WHY IS MY HORSE...?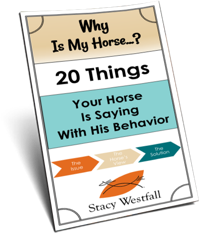 Free PDF Download "Why is my horse...20 things your horse is saying with his behavior"
PDF will be delivered to the email address you enter as will weekly tips from Stacy. Totally free. Unsubscribe anytime.