After seeing a photo of Roxy's foal, Gwhiz I'm Smart (Roxter) an interesting question came through on Facebook; "I'm wondering do any of Roxy's offspring have the darker color coat like Roxy? And can Jac breed black?"
Horse colors are fascinating and predicting them is even more so. A
few years ago when we were breeding Vaquero I found a website with a pretty cool coat color calculator, Animal Genetics. Enter the color of the sire, the color of the dam and then follow the instructions. They offer genetic testing to improve your knowledge of your horses 'color makeup'.
By the way, Roxy had three foals: two with a sorrel stallion-producing a bay filly and a sorrel stallion; one with a bay stallion-producing a sorrel; and one more by a different sorrel stallion producing another sorrel. You can check the math.
Just remember the old saying, "A good horse is never a bad color."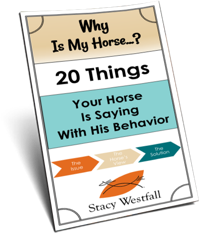 FREE PDF DOWNLOAD
WHY IS MY HORSE...?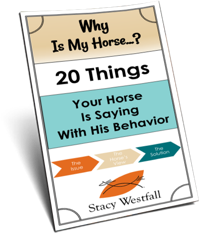 Free PDF Download "Why is my horse...20 things your horse is saying with his behavior"
PDF will be delivered to the email address you enter as will weekly tips from Stacy. Totally free. Unsubscribe anytime.