Hello. Thank you for taking the time to read and hopefully answer my question. When riding bareback, but with the use of reins, is it necessary for the horse to wear a bit? If not, what type of bridle would she wear? How do the reins attach? Many thanks to you. Sincerely, Mandy
______________________________________________________________________
Mandy,
When riding bareback you should use the same bridle that you use when riding with the saddle that gives you full control. What that is will vary from horse to horse.
Stacy Westfall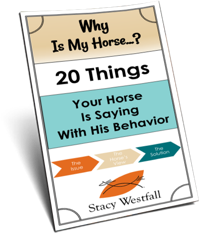 FREE PDF DOWNLOAD
WHY IS MY HORSE...?
Free PDF Download "Where is my horse...?"
20 things your horse is saying with his behavior.