On one of our trips from Texas to Ohio we stopped at a truck stop near Joplin, MO and visited the Caribou Coffee. We each took turns writing our summer
plans on the board…and I drew our logo just to 'leave our mark'.
Memorial Day generally kicks off the summer season with our horses. Does it with yours? What plans do you have? Will you show or trail ride or go for a drive in a cart? Will you be inspired and start your first colt or will you schedule time to take your old pal for a ride even though you haven't for the last couple of years?
Maybe you have a destination you have always dreamed of going; riding on the beach somewhere or riding an Icelandic in Iceland!
I have kicked off my summer already by showing Newt and Jac as well as doing some trail riding here in Texas. I want to ride at a few different state parks over the summer (any suggestions?) as well as riding the trails in PA and ME. I would also like to visit at least one 'horse camp ground' where they have trails, arenas and cabins to stay in…again, any suggestions?
Here's to a happy, horsey summer.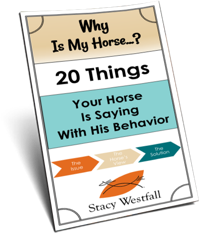 FREE PDF DOWNLOAD
WHY IS MY HORSE...?
No one taught you the skills you need to work through these things.
Riders often encounter self-doubt, fear, anxiety, frustration, and other challenging emotions at the barn. The emotions coursing through your body can add clarity, or can make your cues indistinguishable for your horse.
Learning these skills and begin communicating clearly with your horse.
Click here to learn more.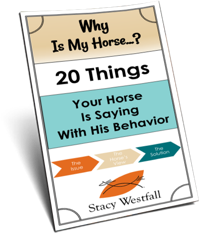 Free PDF Download "Why is my horse...20 things your horse is saying with his behavior"
PDF will be delivered to the email address you enter as will weekly tips from Stacy. Totally free. Unsubscribe anytime.