AND HIS NAME IS….
First, thanks so much for all the fun name ideas that were posted on Facebook!
I'll share my thoughts on the names that were sent in, then I'll tell you why some of my favorites didn't fit this mini…then I'll share his name.
Names that made me laugh out loud:
⭐️Mushroom
⭐️Meatball
⭐️Sprout
⭐️Moonpie
Does anyone else see a theme here?
As much as I love 'Meatball' he just doesn't have the classic mini roundness so that one is out (actually saved for my *next mini)*
Mushroom and Sprout are REALLY CUTE…but he has a strong confident air about him.
?Harry and Hagrid made me pause, Gabby's registered name is 'Ravenclaw'…
?'Cousin It' and 'Fabio' made a strong appearance…with good reason.
?80's rocker names…lol…those were fun to read and I hadn't thought of that theme.
❤️❤️❤️John Bon Pony was my favorite of all of those…(my husband said that can be his 'registered' name)
After trying on several names….
THE WINNER IS:
☕️Mocha.
It fits his strong, confident demeanor and has lots of potential for nicknames Mini Mocha…M&M…Mo (if he's having a bad hair day)
For those who were concerned about me changing his name I offer you two thoughts. The first is that he hasn't had the kind of handling yet that has him attached to a name. He leads but it was also made clear that he needs training and can be hard to catch.
Also…did you know that I sold Willow as a weanling and then bought her back unstarted four years later? I had given her a name as a foal, they changed her name….and when I bought her back I changed it to yet a third name: Willow.
Sometimes big life events or special relationships create special names:)
Here's to hoping that Mini Mocha enjoys his new adventures with me!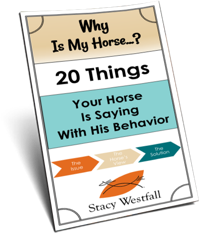 FREE PDF DOWNLOAD
WHY IS MY HORSE...?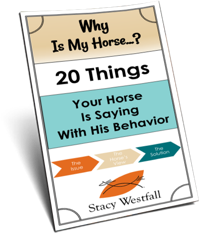 Free PDF Download "Why is my horse...20 things your horse is saying with his behavior"
PDF will be delivered to the email address you enter as will weekly tips from Stacy. Totally free. Unsubscribe anytime.