Do you have a horse that is an 'easy keeper'?
An easy keeper would be defined as a horse that seems to gain weight when exposed to air or when they look at food.
Horses that gain weight easily usually fall into one of two categories: underworked/overfed or medical issue.
Popcorn here just loves to eat. He gains weight if I don't watch that his intake doesn't exceed his workload. If he isn't being worked hard I will change the type of hay he is eating to something lower calorie and I feed a ration balancing feed that is low calorie while providing all of his vitamins and minerals. This often means that he is also turned out in the 'diet' pasture where he is with buddies that have the same issue.
If diet and exercise aren't enough then I tend to suspect that the horse may have some medical issues that need to be addressed. It is possible for horses to have weight gain due to thyroid problems, Cushing's Disease, or Metabolic Syndrome also known as insulin resistance. With proper diagnosis and treatment with a vet these horses can also achieve an ideal weight.
Have you ever had an easy keeper or a horse with a medical issue that caused weight gain? How did you handle it?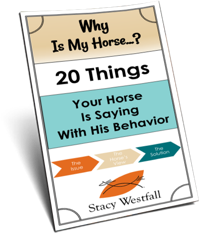 FREE PDF DOWNLOAD
WHY IS MY HORSE...?
No one taught you the skills you need to work through these things.
Riders often encounter self-doubt, fear, anxiety, frustration, and other challenging emotions at the barn. The emotions coursing through your body can add clarity, or can make your cues indistinguishable for your horse.
Learning these skills and begin communicating clearly with your horse.
Click here to learn more.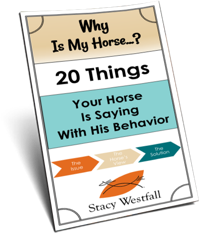 Free PDF Download "Why is my horse...20 things your horse is saying with his behavior"
PDF will be delivered to the email address you enter as will weekly tips from Stacy. Totally free. Unsubscribe anytime.