Would you be scared if you saw this tire? I was when this happened to me! We actually had all new tires put on our truck and over the next several months this happened on three of the tires. Interesting fact: When the 'bubble' popped…the tire didn't!
Another day we walked out to the barn and spotted the huge tractor tire spraying liquid…we knew it was going to be an expensive day. The first thing we checked was that the liquid was safe (it was) and then came the cost…gulp.
Thankfully neither of these experiences resulted in injury. Do you have any scary equipment stories or photos?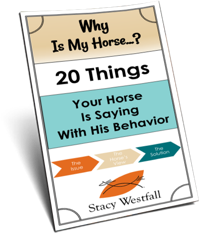 FREE PDF DOWNLOAD
WHY IS MY HORSE...?
No one taught you the skills you need to work through these things.
Riders often encounter self-doubt, fear, anxiety, frustration, and other challenging emotions at the barn. The emotions coursing through your body can add clarity, or can make your cues indistinguishable for your horse.
Learning these skills and begin communicating clearly with your horse.
Click here to learn more.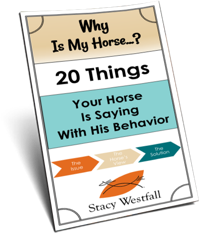 Free PDF Download "Why is my horse...20 things your horse is saying with his behavior"
PDF will be delivered to the email address you enter as will weekly tips from Stacy. Totally free. Unsubscribe anytime.