It's weaning time! Actually, it has been weaning time for these two fillies for awhile now as we use a gradual system of weaning. These photos are from yesterday and they are turned out with Popcorn, my older gelding. I like weaning gradually and I like keeping them in a herd environment.

You can see in these photos that the fillies are hovering around Popcorn. One filly was weaned from her mother about a month ago…but she started nursing on our mare…so she was also weaned again last week with our filly. The fillies and Popcorn relocated to a friends house (look at all the grass!) yesterday and the fillies were a bit unsure. So they are sticking close to Popcorn.

Here you can see the fillies are getting a bit more secure. Popcorn is 'emotionally stable' so the excitement of the foals running and playing doesn't upset him. He is the clear but fair leader, which brings me to the last photo.
Popcorn has helped with the weaning of our foals for the last eight years. He is my favorite to put them with because he is very tolerant of them but he will set boundaries. He is fascinating to watch because with young horses he uses HUGE body language to warn them and follows through but with much less force. 
Popcorn is also featured in my email on reading body language (sign up form below) but in that video the horses are older…and Popcorn is tougher. In that video he uses very little body language and is willing to back it up big time.
It has been a privilege to watch Popcorn 'train' horses over the years…his methods are extremely accurate!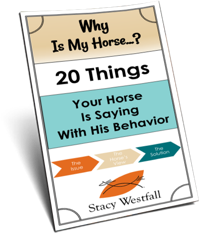 FREE PDF DOWNLOAD
WHY IS MY HORSE...?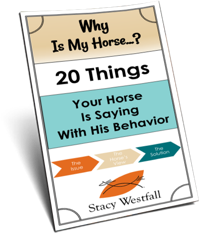 Free PDF Download "Why is my horse...20 things your horse is saying with his behavior"
PDF will be delivered to the email address you enter as will weekly tips from Stacy. Totally free. Unsubscribe anytime.