It's Congress time again!
Congress (short for All American Quarter Horse Congress) is a horse show takes place in Columbus, Ohio and last almost the entire month of October. The show is the largest single breed horse show in the WORLD! This is also the show where the famous 'Live Like You Were Dyin' video was filmed.
During the month almost every class you can image a Quarter Horse competing in will be featured. Right now reining and cutting classes are showing, but barrel racing, roping, ranch pleasure, working hunter, halter, hunter hack, western pleasure, and mounted shooting will all take place during the month…plus more.
If your near Columbus the shopping here is also amazing. On Saturday, October 11th I will be hanging out in the Stagecoach West booth and later that night will be speaking at the beginning of the Weaver Leather Freestyle Reining
Newt has been doing some short video clips that are posted over on Facebook. What behind the scenes info would you like to know about living, showing attending, or generally being at the Congress? Maybe Newt can answer some of your questions…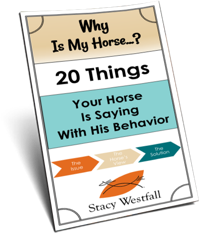 FREE PDF DOWNLOAD
WHY IS MY HORSE...?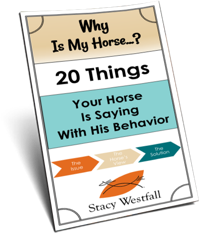 Free PDF Download "Why is my horse...20 things your horse is saying with his behavior"
PDF will be delivered to the email address you enter as will weekly tips from Stacy. Totally free. Unsubscribe anytime.