After selling our house and deciding to travel for a year the choice to live in a RV of some sort seemed logical…the question was living quarter horse trailer? Fifth wheel? Motor home?
We had owned a living quarter horse trailer years ago when the kids were small but for this adventure, a year on the road, we knew we needed something a bit bigger. Our boys are now at ages 13, 14 and 16 plus two adults….we knew we needed room.
Little did I know when I wrote the blog, pros and cons of buying an RV, that the CFO of Fleetwood would be reading it…and oh, by the way, he shows his horses in team penning and follows me on Facebook!
Lance reached out and offered to give me advice or at least things to consider when looking at motor homes. I love learning so I made the call.
I have been blessed in many ways while doing what I love and this time Fleetwood has been my blessing. After several phone calls Fleetwood decided they wanted to support our adventure.
Right now as I write this I am in a 42 foot American Revolution…my temporary MH (motor home) while Fleetwood is building…yes, building…my Fleetwood Discovery. I'm not telling all the details right now but WAIT 'TILL YOU SEE IT!
Watch for us and our modern day wagon train coming down a road near you!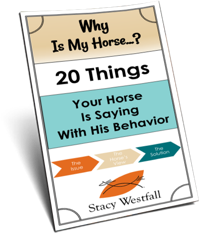 FREE PDF DOWNLOAD
WHY IS MY HORSE...?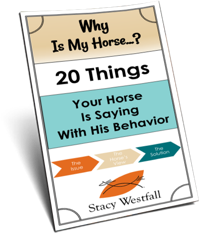 Free PDF Download "Why is my horse...20 things your horse is saying with his behavior"
PDF will be delivered to the email address you enter as will weekly tips from Stacy. Totally free. Unsubscribe anytime.