130 days of training.
She hopes to train horses full time after she graduates from Purdue.
I don't think she will have trouble getting customers, lol.
The young ladies name is Madison Shambaugh and her horse is the mustang Terk. This video is from the VA Extreme Mustang Makeover 2015. The team was awarded Overall Reserve Champion, Fan Favorite, Rookie award, & Young Guns (18-21 yr old) award.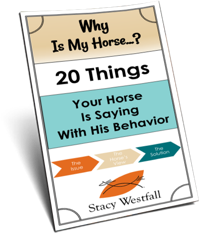 FREE PDF DOWNLOAD
WHY IS MY HORSE...?
Free PDF Download "Where is my horse...?"
20 things your horse is saying with his behavior.