When I was a kid I loved to read anything to do with horses. We subscribed to an equine magazine but received most of our 'training' information from other people that we rode with. At one point my mom and I took lessons at a dressage barn but with limited success as our horses were so drastically different from the lesson horses we rode. There was no YouTube, no internet, and VHS videos were not even common. There were no clinics in my area until I was in high school.
Boy have things changed.
Now there are so many ways to access information now that difficulty might be more in deciding what you like rather than what is available. I'm sitting in the parking lot at the Kentucky Horse Park where the Road to the Horse just finished up. Horse Expos…another great place to learn. Aside from studying your horse, do you make an effort to gather outside information?  If I had to pick my top three ways to learn they would probably be:
1) riding my own horse with someone
2) a book
3) video
I had an awesome thing happen to me this weekend. I was telling Jack Brainard that I wanted to learn more about western dressage and he invited me to come ride with him. I warned him that I would show up if he was serious…and he said he was! I'm so excited.
What are your top three picks for ways to learn? How often do you seek out new information?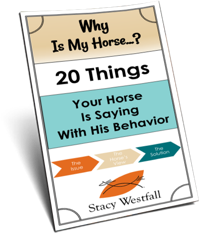 FREE PDF DOWNLOAD
WHY IS MY HORSE...?
No one taught you the skills you need to work through these things.
Riders often encounter self-doubt, fear, anxiety, frustration, and other challenging emotions at the barn. The emotions coursing through your body can add clarity, or can make your cues indistinguishable for your horse.
Learning these skills and begin communicating clearly with your horse.
Click here to learn more.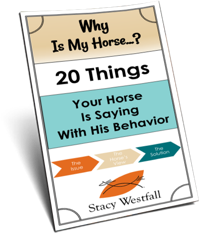 Free PDF Download "Why is my horse...20 things your horse is saying with his behavior"
PDF will be delivered to the email address you enter as will weekly tips from Stacy. Totally free. Unsubscribe anytime.