I am preparing to load Vaquero into the trailer in 30 mins and head south to Kentucky to see the vet. My vet has run tests and is recommending a complete neurological work up and x-rays, etc to figure out what is going on. Rood & Riddle (http://www.roodandriddle.com/index.php) is an amazing facility located in the heart of race horse country and that is where we are headed.
Vaqueros symptoms have improved although he is still far from normal. Especially if he moves to the right. Then he is very resistant and he does not move normally.
Say a prayer that they can figure out what it is…and that it has a cure.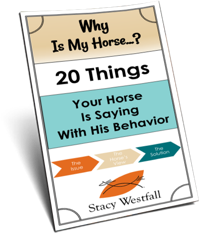 FREE PDF DOWNLOAD
WHY IS MY HORSE...?
No one taught you the skills you need to work through these things.
Riders often encounter self-doubt, fear, anxiety, frustration, and other challenging emotions at the barn. The emotions coursing through your body can add clarity, or can make your cues indistinguishable for your horse.
Learning these skills and begin communicating clearly with your horse.
Click here to learn more.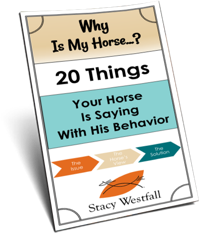 Free PDF Download "Why is my horse...20 things your horse is saying with his behavior"
PDF will be delivered to the email address you enter as will weekly tips from Stacy. Totally free. Unsubscribe anytime.