I have a 4yo blind gelding.  He is halter-broken and is very quiet natured and eager to please when working with him from the ground.  I believe he can see some things, as he maneuvers around our 64 acre pasture with the other horses very well.  When I'm leading him and we approach an object on the ground I halt him and give light pressure downward on the lead, and he'll put his nose to the ground to investigate before continuing.  I've led him across a variety of terrains, and he follows the other horses through gullies, into the creed, and all around our wooded areas and fields.  Our farm is a working farm, so he is accustomed to other horses, cattle, rifles firing, dirt bikes and 4-wheelers, tractors, logging equipment, etc.  To date nothing has frightened him.
My question:  I'd love to begin riding him, just at a walk, just on our farm in familiar territory.  I was at one time an avid rider and have handled many horses with a variety of temperaments and issues, but I'm now in my 40s with five children so I have little time to trailer to other places for lengthy rides.  I just need quiet time with my equine friends.  My veterinarian says Stitch is healthy and sound.  I have placed a saddle on his back, girth in place.  His feet have been trimmed, no issues there.  What's your opinion on riding this beautiful horse, and do you have any suggestions for starting him — should I continue as with any young horse, or do anything special?
You might ask why in the world I'd want to even attempt this, but it's just a personal issue, my belief that an otherwise healthy, active young horse should have a purpose in life just as people need to be needed.  Stitch was brought to me in a rescue effort by a young lady who knew his owner and the owner planned to euthanize.  My vet recommended she call me, and Stitch arrived a few days later after a 200-mile trailer ride (owner surrendered ownership).
I admire all you do and trust your judgment completely.  If you have any suggestions, please consider responding.
Thank you!
Paula C.,
Tennessee
****************************************************
Paula,
I know this won't exactly be the most common issue but I did find your question interesting. One of the reasons I found it interesting  is because the ANSWER is an interesting theory. For me an interesting theory is one that can be used in many areas of life.
Here are the theory's. #1- Maybe there is no right or wrong answer here. #2-Look at managing your risk.
So Paula, in your case #1 there is not a direct right or wrong answer in my opinion. So most of the answer comes from #2- what is the risk, are you willing to accept the risk, and what is the best way to manage the risk.
Riding any horse is risky. Actually just this morning I had a horse fall on me.
I was riding Popcorn in my well groomed outdoor riding arena and when I made a sharp turn to the right (teaching Popcorn to accelerate during a sharp turn) when his feet slipped out from under him and he went down on his right side. I curled my legs to try to avoid the fall but found that he was already laying on my right leg. I curled up and said a prayer that my foot would come free as he stood up (prayer answered!). Riding can be risky. I wasn't going much over a regular lope.
So riding can be risky. You will need to factor in additional risk because of your horse being blind, or partially blind.
I had the chance to work with a horse that was 90% blind in one eye and around 60% blind in the other. Even those numbers are hard to determine because it was also discussed that it was light and shapes more than clear sight we were talking about. This horse got along in the pasture by touching another horse to follow along. The horse was halter broke and led well although she wanted to touch you all the time. Groundwork went OK and I even saddled and rode a little in the round pen.
That is when I decided the risk was passing my comfort zone. I had three young kids and the horse was much less confident when away from other horses. The toughest was if the horse did spook, which was not often, but when she did she was unaware of what she might run into (wall, round pen, falling over things on ground) I wanted to be honest with the customer about the amount of money he was spending and if it was a good investment. We decided to stop where we were at.
I think the horse could have been trained for something. It would have taken extra time and lots of judgment to keep both horse and rider safe.  And that is what you need to consider here. The risks to yourself and your horse depending on the situations you choose.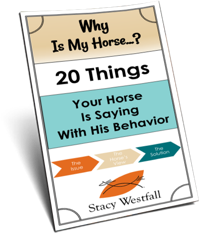 FREE PDF DOWNLOAD
WHY IS MY HORSE...?
No one taught you the skills you need to work through these things.
Riders often encounter self-doubt, fear, anxiety, frustration, and other challenging emotions at the barn. The emotions coursing through your body can add clarity, or can make your cues indistinguishable for your horse.
Learning these skills and begin communicating clearly with your horse.
Click here to learn more.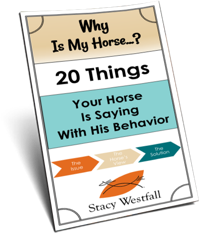 Free PDF Download "Why is my horse...20 things your horse is saying with his behavior"
PDF will be delivered to the email address you enter as will weekly tips from Stacy. Totally free. Unsubscribe anytime.