"Hey Stacy, I was just wondering if you ever wanted to do something besides/along with training horses? If training didn't work out what do you think you would have chosen as an alternate career path?"-Kendall
I always dreamed of working with horses. Growing up I thought the only real options in the industry were; farrier, vet, something to do with racehorses. I actually cried when I grew over five feet tall!
I was a junior in high school when a teacher asked me, "What will you do after high school?"
I responded, "I dunno, go to school for accounting or something."
I'm not exactly sure where that answer came from, especially considering that my kids have greater math skills now then I did as a junior in high school.  Maybe it was inspired because it was my math teacher asking the question. I was good with accounting and at least I knew people could do it as a living.
That teacher asked me one of the most important questions anyone has ever asked me, "What do you want to do?"
Without hesitation I answer (full of sarcasm), "I want to ride horses but you can't go to school for that." (teenage eye-roll for added emphasis)
He challenged me to go look at the college book…right then. (…pre-internet moment here).
I was shocked that you COULD go to school for that. So I did.
Knowing what I know now, but removing the horses, I would teach and write. Or write and teach. I love the process of learning and teaching goes hand and hand with it.
I also love writing because in general, I get a chance to think about my subject and really study it. Blogging daily is actually hard for me because I don't have as much time to polish everything the way I wish I could and because there are always critics.
I was so shy when I was young that it is probably a shock to people who knew me that I speak in public like I do. My point in mentioning this little fact is that I never would have guessed that I would speak in public like I do. Life is funny like that, it is strange to think about all of the options it contains.
If you read this post, leave a comment about a career you would love to do…and why you are NOT doing it.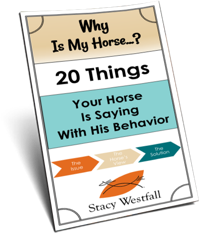 FREE PDF DOWNLOAD
WHY IS MY HORSE...?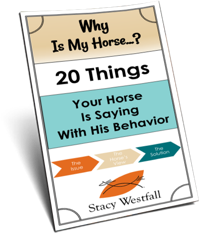 Free PDF Download "Why is my horse...20 things your horse is saying with his behavior"
PDF will be delivered to the email address you enter as will weekly tips from Stacy. Totally free. Unsubscribe anytime.