Do you ever feel lead to do something?
I'm not just talking about wishing you could do something but almost the opposite. More like knowing you should do something but it is going to be inconvenient so you really don't want to do it…even though you know you should.
There have been a fair number of times in my life where I have had this happen. I didn't always act on it. The times that I didn't act, because it was really quite inopportune, are some of the biggest regrets I have had in life.
The last day I saw my dad alive I had no idea that it was going to be just that. But I did have one of those nagging feelings.
In the summer of 2006 I had a really nice Nikon camera with a great zoom lens but it wasn't digital. My nagging feeling was about black and white film. I kept
thinking I should buy black and white film. I had even stopped at one store but they didn't have any.
Oh, well. No big deal…
…but that nagging feeling just wouldn't go away.
I tried to ignore it. I was busy. I had color film….but it just kept nagging.
I didn't understand this nagging feeling but I had enough experience with it to realize that I would likely regret not acting on it. Finally, we loaded up the family and drove out of the way to a specialty camera store to get the film. The nagging feeling was gone.
We met my dad for lunch. The kids played. We talked, as always a little awkward but both trying. Dad showed the boys his car. He always loved cars. I shot photos with my zoom lens trying to catch my dad unaware. Almost all the photos I had of him reflected his discomfort of being the subject of the camera.
The kids got tired. Dad got in his little sports car and waved goodbye.
*         *         *
That fall I stood in the same specialty camera store with an undeveloped roll of black and white film in my shaking hand. I explained to the lady behind the counter that I would like it developed in house as I had once had a roll 'sent out' for developing that was lost. She assured me that they wouldn't loose it but they needed to send it out. Voice cracking I explained to her that the roll contained the last photos taken of my dad who had just died. The color drained from the clerks face and she said she would expedite things and keep the film local.
It is hard to believe that film had to be developed and that you really didn't know what was on the roll until it was. When I returned the next day for the film my hands were again shaking as I flipped through the images.
Tears slipped down my cheeks as I came across the photo I was hoping I would find the one that captured the way I remember my dad. But the one that took my breath away was at the end.
The last photo on the roll was taken as my dad pulled away in his car. He had a rare smile on his face as he waved his final goodbye.
*         *         *
Jesse and I both lost our dads while we were in our 30's. It has welded the thought into us that life is fleeting. That time spent with those you love is precious and that God often nudges us to do things we don't understand at the time but we will often understand later.
Below is the ride that was dedicated to my dad just 24 days after he went to live in heaven.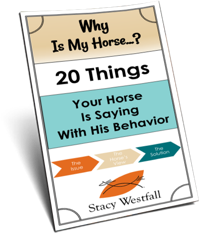 FREE PDF DOWNLOAD
WHY IS MY HORSE...?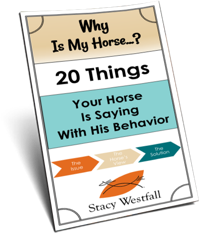 Free PDF Download "Why is my horse...20 things your horse is saying with his behavior"
PDF will be delivered to the email address you enter as will weekly tips from Stacy. Totally free. Unsubscribe anytime.