This video slows down the process of loading a horse so you can see the pieces. In an upcoming video you will see a problem horse and how these pieces are missing. Can you see the conversation? I think it is interesting that because I wanted to slow the process down you can actually see that Vaquero is confused by the lack of clear guidance. To see the full series visit http://www.lifesajourneystopoften.com/ and click on the video tab.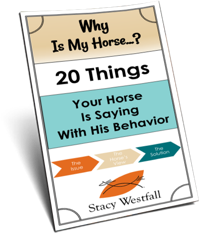 FREE PDF DOWNLOAD
WHY IS MY HORSE...?
Free PDF Download "Where is my horse...?"
20 things your horse is saying with his behavior.