Hi! My name is Maddie P. I am a brand new fan and I am so sorry for your loss of Roxy. I saw one of your videos and it was amazing, I fell in love with you and your horse and would really love to get my horse to be able to do that same thing. You see my horse is very good she just is kind of stubborn sometimes and is very, very green. I do not know if my horse will ever be as outstanding as Roxy, but  I would love to give it a shot. So here's my question and if you don't want to answer its fine but I would be ever so grateful. I was wondering if you might want to share the method you used to train Roxy with me because me and my horse are both new at things and haven't really had a chance to bond or get to know each other and I would love for my horse to trust me and understand as well as Roxy did you. And I know it won't be easy but I am determined and focused so can you please please, please get back to me.
Thank you oh so very much for even reading it,
Maddison P
P.S. I have seen all these amazing horses being able to do things I didn't even think were possible and when I heard the story with you and Roxy I knew I wanted my horse Regal to do just the same with me!
Get back to me as soon as you can please!!!!!!!!
Thanks again!!!
___________________________________________________________
Maddie,
Thanks for writing to me. I know what you mean about wanting to give your horse the best chance possible. I know some people think it is just a sales pitch but when I made my DVD's I had teaching people like you in
mind. I grew up in Maine and there were not many people to learn from. Right now the only ways to get the info is by attending a clinic or watching the DVD's. The clinics are great but cost more than the DVD's AND the big thing is that you really should study the DVD's before you even come to a clinic. Why spend five hundred dollars or more to learn what you can from a fifty dollar DVD, then when you come to the clinic I can answer the questions not found on the DVD's. I do need to make more DVD's. It took over 1,000 hours to get Roxy trained for the bareback and bridleless ride and right now I have about 15 hours worth of teaching on the DVD's so although it is a great start it is not everything.
Ride with Faith,
Stacy Westfall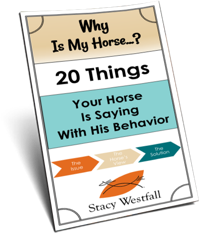 FREE PDF DOWNLOAD
WHY IS MY HORSE...?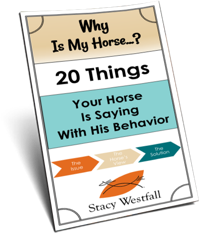 Free PDF Download "Why is my horse...20 things your horse is saying with his behavior"
PDF will be delivered to the email address you enter as will weekly tips from Stacy. Totally free. Unsubscribe anytime.