Grew up in tiny village, father died, 27 years in prison, tuberculosis….earned Bachelor of Law degree while IN prison….won the Nobel Peace prize.
How can you not be inspired by this? Just consider these excerpts from Nelson Mandela's life:
Nelson Mandela was born Rolihlahla Mandela on July 18, 1918….his teacher told him that his new first name would be Nelson….
Grew up in a village that was nestled in a narrow grassy valley; there were no roads, only foot paths that linked the pastures where livestock grazed. The family lived in huts and ate a local harvest of maize, sorghum, pumpkin and beans, which was all they could afford. Water came from springs and streams and cooking was done outdoors…..
When Mandela was 9 years old, his father died of lung disease, causing his life to change dramatically. He was
adopted by Chief Jongintaba Dalindyebo…..moved to city. Received education…. Mandela took the required courses, but focused on Roman Dutch law to prepare for a career in civil service as an interpreter or clerk—regarded as the best profession that a black man could obtain at the time….
Mandela soon became actively involved in the anti-apartheid movement….
For 20 years, Mandela directed peaceful, nonviolent acts of defiance against the South African government and its racist policies…
In 1956, Mandela and 150 others were arrested and charged with treason for their political advocacy….
In 1961, Mandela orchestrated a three-day national workers' strike. He was arrested for leading the strike the
following year, and was sentenced to five years in prison.
Mandela was brought to trial again…. for political offenses, including sabotage…
Nelson Mandela was incarcerated on Robben Island for 18 of his 27 years in prison. During this time, he contracted tuberculosis and, as a black political prisoner, received the lowest level of treatment from prison workers. However, while incarcerated, Mandela was able to earn a Bachelor of Law degree through a University of London correspondence program.
….Mandela's release was finally announced—on February 11, 1990.
In 1991, Mandela was elected president of the African National Congress….
In 1993, Mandela and President de Klerk were jointly awarded the Nobel Peace Prize for their work toward dismantling apartheid.
Served as President of South Africa from 1994 to 1999….
He may not have put his faith into so many words, but this mattered little as it was his often simple and humble gestures that so powerfully and clearly conveyed what it was he believed. The words of Francis of Assisi come to mind: "Preach the Gospel and if necessary, use words." link to article
Main article  and a bit from Wikipedia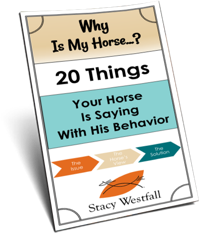 FREE PDF DOWNLOAD
WHY IS MY HORSE...?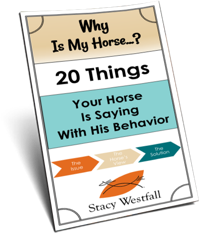 Free PDF Download "Why is my horse...20 things your horse is saying with his behavior"
PDF will be delivered to the email address you enter as will weekly tips from Stacy. Totally free. Unsubscribe anytime.