Have you seen these mini-mini's? These are the tiniest of the tiny. There also seems to be a bit of a 'tiny-contest' to hold the record of the smallest equine. All of the following hold records of their own. I have teased the boys saying that, as each of them leaves I'm putting a mini in their room and naming it after them…I guess it really could work!
Which is your favorite? Do you have issues with horses being bred this small?
The smallest Foal In The World: EINSTEIN
Einstein: The Smallest Stallion Has A Ball
I know that dwarfism is a real problem…but he is so cute!
Thumbelina is the Worlds Smallest Horse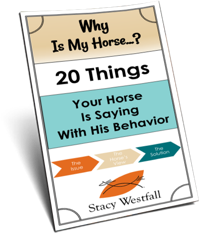 FREE PDF DOWNLOAD
WHY IS MY HORSE...?
Free PDF Download "Where is my horse...?"
20 things your horse is saying with his behavior.