The old bay mare.
It doesn't bother me to call her that because she was mine. My first horse. And I named her Bay. Not the most creative name but she didn't hold it against me.
On nights like this, when the weather is frigid, thoughts of her pop into my mind. I'm not sure why. Maybe its because my favorite photos of her were taken in the snow. Or the memories of riding her in belly-deep snow in Maine. Or that it was the extreme cold, combined with heavy arthritis that finally took her.
This may sound like a sad post, but I assure you it is not. She lived a good long life. Nearly 30 years. She taught me so much. And if it takes a wintery blast to remind me of her…then bring on the cold.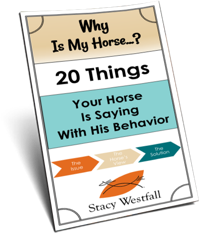 FREE PDF DOWNLOAD
WHY IS MY HORSE...?
No one taught you the skills you need to work through these things.
Riders often encounter self-doubt, fear, anxiety, frustration, and other challenging emotions at the barn. The emotions coursing through your body can add clarity, or can make your cues indistinguishable for your horse.
Learning these skills and begin communicating clearly with your horse.
Click here to learn more.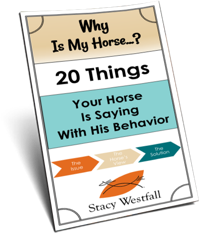 Free PDF Download "Why is my horse...20 things your horse is saying with his behavior"
PDF will be delivered to the email address you enter as will weekly tips from Stacy. Totally free. Unsubscribe anytime.