The expectant fans held their breath
As she quietly entered the pen
With a calm in her heart and a prayer on her lips
She proceeded to do her spins
*
First to the right, then to the left
Her horse most eager to please
Planted a foot and spun around
Completing the maneuver with ease
*
They came to a halt, and then loped off
With a quick squeeze of the mare's sides
There was an elegance in every move
Perfection in every stride
*
The music played as they circled with speed
As if it were a dance
The rode bridleless and without a flaw
The crowd sat in a trance
*
Lead changes were done, and were right on que
She rounded the curve for the slide
She let the mare go, and then with a whoa
She finished her incredible ride
*
She backed while the music faded to an end
The crowd erupted in cheers
With a standing ovation and a deafening roar
They knew the competition was theirs
*
They waited a moment, cheers still going up
To hear the final score
They'd done their job well, still it's hard to tell
Just what might be in store
*
Then came their time, it was all on the line
What would the announcer say?
He then came on, and when he was done
They were champions that day!
*
Here's to the woman we're so proud of
For doing what we knew you could do
Congratulations from all of us
God Bless! We love you!!
-written by Carli Thomas Heringer
This ride and this horse hold a special place in my heart. This was the ride that started it all for me. Can Can Lena was the horse that taught me, while I taught her, and together we figured out how to ride bridleless. I knew Carli when she was a shy young girl hiding behind her mom at church. Later she came to work for me and now she is raising a family of her own. Carli is a beautiful person and this poem means a lot to me. It was published in the NRHA Reiner after our win in 2003.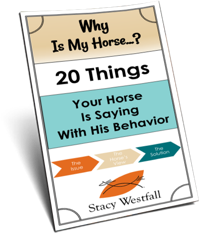 FREE PDF DOWNLOAD
WHY IS MY HORSE...?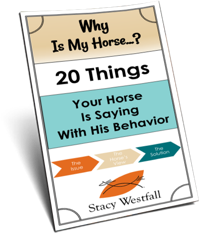 Free PDF Download "Why is my horse...20 things your horse is saying with his behavior"
PDF will be delivered to the email address you enter as will weekly tips from Stacy. Totally free. Unsubscribe anytime.