It's fun to look back and see how much Willow has matured. This is a video from 2019 which was the first year that I really showed her a lot. She matured so much!
Following my lead change theme…and because I'm hoping to show Willow in reining this year…here is a throwback video from August 2019. There is a lead change around 55 seconds…and Willow looks like a little reiner! Keep in mind, this is the same year I earned my Bronze Medal in classical dressage with her!
Aug 2019: There is so much valuable experience that horses can gain at horse shows.
Most shows have a haul in fee or a non-showing fee that people can pay to come and simply be at the horse show. I encourage people to do this and I often haul horses that are not ready to show simply for the exposure.
This weekend I went to a reining show that my husband was taking his customers to. It was especially nice to ride in the special footing and in the large arenas that I will some day show in. Willow even got to meet the giant 'fan monster' at the end of the arena. She initially had an issue with the noise above her head (even though she has a fan in her stall at home above her head;)
It was nice to be able to get around this stuff, learn to see from Willow's point of view, and not have the pressure to show. Even outside of preparing to show, there is value in exposing horses to different environments. It is nice to haul somewhere that has safe footing and arenas if you think your horse may have issues when hauled. A facility like this one, the University of Findlay, there are many 'new' things to look at and lots of safe places to work.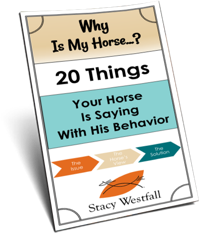 FREE PDF DOWNLOAD
WHY IS MY HORSE...?
No one taught you the skills you need to work through these things.
Riders often encounter self-doubt, fear, anxiety, frustration, and other challenging emotions at the barn. The emotions coursing through your body can add clarity, or can make your cues indistinguishable for your horse.
Learning these skills and begin communicating clearly with your horse.
Click here to learn more.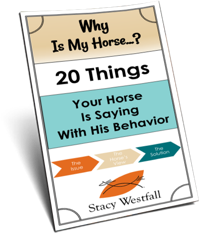 Free PDF Download "Why is my horse...20 things your horse is saying with his behavior"
PDF will be delivered to the email address you enter as will weekly tips from Stacy. Totally free. Unsubscribe anytime.