"Stacy, I love all your videos on training! I have a question. On riding bareback, I know there are benefits for the rider such as balance and seat. I also know there are possible risks to the horse. So is it something I should include in my training of me and my horses or something I should try to never do? If you recommend including, please tell me how often and where, round pen, paddock, etc. I don't want to injure my horses, but I'd love to improve as a rider and to be honest, I love the close contact. Thanks in advance!"-Pam T.
I was blessed with a childhood that included riding bareback for multiple reasons. The first of which was lack of money. The second was a mother who didn't see a lack of a saddle as a reason to not ride. My mom worked at a primary school and as a teen I arrived home shortly before she did. I had just enough time to 'saddle' up both of our horses with bareback pads and put on the bridles. She would arrive home, change her cloths, and we would hit the trails usually until dark. Here is a photo of my mom mounted bareback on a colt that I was just starting. I'm holding the horse.
I have no doubts that riding bareback improved my riding and has done the same for many others. I just rode one of my horse bareback for the first time yesterday. We went on a two hour trail ride. I'm fit from riding. She's fit from riding (with a saddle). Aside from being more attentive for the first 20 minutes there was no real change. The extra attentiveness comes from the extra close feeling of my legs next to her body and the fact that I teach my horses many leg cues. It didn't cause any issues but I could see extra focus as she 'heard' all of my moments more clearly and wasn't sure what to do with the added contact.
Here are some quick thoughts on getting a rider started bareback:
-does your horse have good manners when ridden with a saddle?

-can you ride without your stirrups?

-can you balance without the reins?

-have you practiced an emergency dismount?

-is there an area that would make you more comfortable (roundpen, arena, etc)

-do you have a friend or instructor that could be available to help?
Here are some quick thoughts on getting a horse started bareback:
-how would your horse handle a 'sudden dismount'?

-has the horse been ridden bareback by another rider?

-have you practiced having things fall off the horse (like a saddle) to simulate a rider coming off?

-can you slip on and off without the horse becoming nervous?
I appreciate that you are concerned about your horse but there are arguably more risks for the rider. Unscheduled dismounts can cause injuries to arms, legs, ankles, wrists and heads. In the beginning spend extra time practicing mounting and dismounting. At this time you will need to decide if this includes using a mounting block or teaching the horse to side pass up to things, etc. I learned as a kid to use the mane during a dismount to ensure that my feet touched down first and then if needed I could tuck and roll away. Emergency dismounts bareback are easier than with a saddle…the nice thing is that there is virtually no risk to getting hung up on the horse. Just be sure that your horse is emotionally prepared (trained) to handle the dismount. 
Growing up nobody discussed the idea that riding bareback could cause problems for the horse. I'm not going to say that it is impossible…but I will say it is improbable. Why? Mostly because riding bareback is self regulating. Bareback riding ensures that the rider is doing their part by remaining balanced and in rhythm. This makes is much more difficult to 'overdue' because the rider simultaneously feels the same effects.
It would be much easier for me to argue that you could do more damage to the horse when riding in a saddle. In the saddle you can lean and be improperly balanced. Or you can sit without matching the horses motion. Or if the saddle doesn't fit well you can cause extra pressure points.
When you ride bareback you WILL learn to balance. Or you will come off. Coming off won't damage the horse unless you try to stay on using the reins… Don't do that. Just let go if it comes to that.
When riding bareback you will match the horses motion because you will continue to lose your balance until you do. Could you injure the horse during this process? If your horse is healthy enough to ride with a saddle at the same fitness level you are riding bareback, I doubt it. A humans thighs are much more forgiving than an ill-fitting saddle or a well fitting saddle with an unbalanced rider. And human thighs tend to distribute the weight evenly…smaller person, smaller distribution…larger person, larger distribution. 
I attended a saddle fitting demo at a major expo given by a saddle fitter that traveled the world fitting saddles. As he explained all the possible problems with saddle fit, horses bodies changing and more it became harder and harder to tell what was the best for the horse. Near the end one lady asked about bareback. The man observed that he thought that it might not distribute the riders weight evenly enough. He had just spent 40 minutes explaining how most saddles don't distribute the riders weight evenly enough. 
Another person spoke up and observed (this isn't an exact quote but close), "so it sounds like the safest choice is to stay off our horses backs." To which the speaker replied, "Yes, that is the safest choice."
It was an interesting saddle fit demo…
If I haven't scared you away yet…a great time to start bareback riding is by dedicating the last few minutes of each ride to bareback. If you ride for an hour consider pulling the saddle off for the last 5-10 minutes. This has several benefits including; your horse is already warmed up and in work mode, your muscles are loose, you know where your horse is mentally, the horse is slightly sticky from sweat…so you stick better. Yep. Stick like glue. Pants wash and sweat don't hurt.
This is how I started experimenting with my first reining moves bareback. At the end of each ride I would pull the saddle and cool down bareback. I still remember my first five foot slide and how excited I was! I just kept building from there. 
Below are two bareback videos. The trail riding video was made in the state park behind my current house. The other you may have already seen….
I'd like to hear your thoughts and tips, please leave your comments below!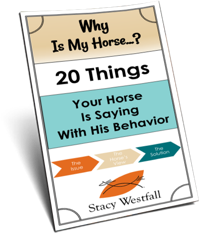 FREE PDF DOWNLOAD
WHY IS MY HORSE...?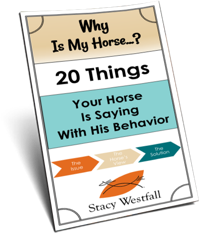 Free PDF Download "Why is my horse...20 things your horse is saying with his behavior"
PDF will be delivered to the email address you enter as will weekly tips from Stacy. Totally free. Unsubscribe anytime.