Jac at 1 hour 20 minutes of training. Look at the results of last weeks 'break through' moment! Jac is quiet,
attentive and accepting the stick n string. No other training happened that you didn't see to cause this. This happened because Jac went back to the stall and thought about the lessons.
There are so many things I talk about here including how I gather information, why I can now use the stick n string, how important MY body language is, how to keep a horse out of your space, how giving a horse a break IS the reward, and how to taylor the training program.
Interesting thought….pay attention to 7:30 and how I rewarded YESTERDAY for two different things (sideway vs forward) and see how specific JAC is about remembering that and LISTEN to my statement at 8:24.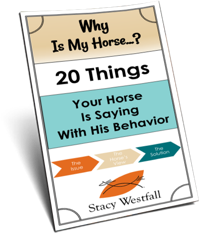 FREE PDF DOWNLOAD
WHY IS MY HORSE...?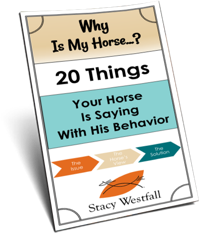 Free PDF Download "Why is my horse...20 things your horse is saying with his behavior"
PDF will be delivered to the email address you enter as will weekly tips from Stacy. Totally free. Unsubscribe anytime.