Jac at 1 hour 35 minutes of training.
So many topics are covered during this video clip that it is hard to pick just one to talk about!
In the beginning I am explaining how I know that Jac understands the lesson. Shortly after that Jac told me that dirt was more interesting than me.
So I decided to make myself a bit more interesting.
I love young horses because so much is going on. During this episode I also discuss taking calculated risks, how much pressure to apply in training, finding the edge of a horses comfort zone, how responses now indicate how he will likely react when ridden, how to make yourself interesting, how a horse can 'ask' you to step up the training, rhythm vs random in training.
You might have to watch this one twice just to see it all!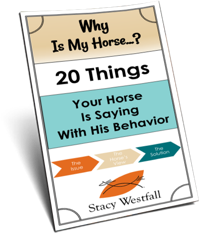 FREE PDF DOWNLOAD
WHY IS MY HORSE...?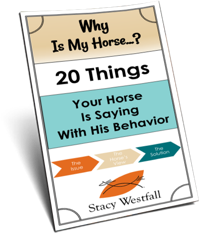 Free PDF Download "Why is my horse...20 things your horse is saying with his behavior"
PDF will be delivered to the email address you enter as will weekly tips from Stacy. Totally free. Unsubscribe anytime.