I visited the NRHA Futurity to do some follow up videos with Jac. The National Reining Horse Association Futurity is one of the premier events the association hosts with a total purse and prizes totaling nearly $2.3 Million to exhibitors. The horses have to be nominated when they are born and then additional payments are made during the horses two and three year old years. I knew the payments had been made for Jac and that there was a chance he would be showing here.
I was initially a little disappointed when I talked with Jac's new owner, Patrice St-Onge, and learned that Jac didn't come to the show but that quickly changed. I respect Patrice for the decisions he has been making with Jac.
The first big decision he made was to geld Jac. We always knew that this was a possibility which is why we collected semen from Jac as shown in Episode 40. Pat felt that it was in Jac's best interest to be be gelded. Sometimes a stallion will lack focus and the rider will need to repeat the lesson over and over because the horse is distracted. When I was going to college one of the main vets would say over and over, "A good stud makes a great gelding." One of the points he was trying to make was that the horses often improve when gelded.
The other decision was to not bring Jac to the futurity. We all knew that Jac had missed training time and Patrice decided that rather that push Jac hard to get ready for this show he would save him for the future. I am very excited that Jac is with someone who is making decisions with Jac's best interest in mind.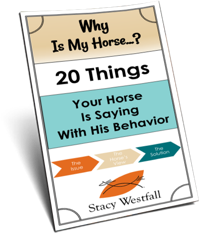 FREE PDF DOWNLOAD
WHY IS MY HORSE...?
No one taught you the skills you need to work through these things.
Riders often encounter self-doubt, fear, anxiety, frustration, and other challenging emotions at the barn. The emotions coursing through your body can add clarity, or can make your cues indistinguishable for your horse.
Learning these skills and begin communicating clearly with your horse.
Click here to learn more.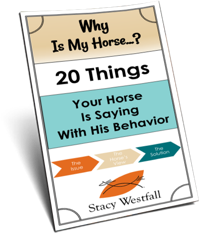 Free PDF Download "Why is my horse...20 things your horse is saying with his behavior"
PDF will be delivered to the email address you enter as will weekly tips from Stacy. Totally free. Unsubscribe anytime.