"Stacy, I know you have 3 boys, and I was just wondering how long you rode while you were pregnant. Did you compete, or was it more riding for pleasure?Thanks, and I look forward to hearing your response!"-Sharli

"Stacy, Just wondering what ideas you might have for a pregnant gal to keep her horse in shape for next year. I'm 5 months along now and my husband has asked that I stay safe and do not canter or trot my horse. We do mostly gaming. If you have any ideas I would appreciate it. Thank you!"-Crystal N.
I do have three sons and I received differing advice during my pregnancies from professionals. My first advice would be to follow your doctors orders. For fun I will also recap some of what I did.
I became pregnant with my first son in the fall. I was newly married and I had a job as a bank teller. I had recently sold my only horse (with a promise to buy him back someday) and Jesse and I hadn't started our training business yet. This made it easy for me to not ride. The temptation of riding a horse I knew wasn't there and I wasn't interested in experimenting with other horses. Over that winter Jesse started riding a few horses for people and I grew restless without horses to work. I cleaned stalls, brushed horses and watched Jesse ride. That spring I trained a filly for the yearling lounge line class. I have a win photo from a show shortly after my son was born…but it is buried in my storage unit in Ohio. My Doctor recommended that I wait to ride for 6-8 weeks after my son was born so I did.
When I became pregnant with my second son we were training horses and I was staying home with my first son. I rode, with permission, quite awhile into my pregnancy. I tended to lose weight for the first three months and then it took a month or two to gain back to my original weight. It didn't seem like a big deal to ride because all of the horses were broke (no colt starting) and it didn't seem uncomfortable…until around 5-6 months. At that point I noticed several things. First, my balance was affected. Not huge, but it was there. Second, I could feel the supporting muscles in my stomach being stressed-especially at a lope. At the time the doctor and I were both operating under the idea that 'if I was in shape for it, it probably would be safe'. The thinking was very similar to the runner, Alysia Montano, in California who competed while 8.5 months pregnant.
I was due January 1st and when the Congress entries had to be mailed in August 20th I thought it was a good idea to sign up for the Ladies Reining. Keep in mind that shortly after this is when I started to notice the symptoms above. By September Jesse was riding the horse for me most of the time and I would get on occasionally. I did show at the Congress in October and my son was born December 22. I have a photo sliding and placing at the Congress while very pregnant. It is buried somewhere in my storage unit in Ohio…but maybe it should stay there, if I remember correctly it was taken after midnight and we all look worn out, lol.
The third time was a bit more interesting because of one woman I met. My third pregnancy started out like the rest and I rode. People didn't even know I was pregnant for quite awhile and I continued riding aged horses and showing. One day I was at a small local show and a lady walked up and introduced herself to me. She told me she was a nurse and she worked with my sister-in-law. We visited for a few minutes and then she mentioned that she had heard I was pregnant. I confirmed this and then she said, "I know it isn't any of my business but I feel the need to tell you something. I am a nurse. I specifically work with newborns. You are an expert in the horse world and I respect that. I also would guess that, as a professional, you have seen more than most when it comes to bad things that can happen."
I nodded in agreement. She went on, "You have probably learned both from mistakes you have made…but also from mistakes you have seen other people make." I nodded again.
"I am asking you to consider not riding. I know it feels safe because you know the horses but think of the risk. I work everyday with children who are born premature, who are injured before they are even born. I see the problems and the pain it causes their families. If they could go back and change things they would. What if your horse trips? Just a simple trip could cost your babies life."
As you can tell, she was very convincing. I had seen a horse trip and go down in a smooth arena, on a loose rein, for no reason and the rider suffered from a dislocated shoulder. Accidents do happen and as soon as she gave me her perspective I couldn't erase it from my mind. I went home and didn't ride for the remainder of that pregnancy. I still cleaned stalls and spent time in the barn. I am aware that accidents can still happen on the ground or driving in a car, but I also had two small children and when I looked at them I knew I wanted to do all I could to reduce any chance of hurting the baby I was carrying.
I believe that if I had met this lady during my first pregnancy I would never have ridden during any of them.
I wouldn't feel bad turning my horse out during my pregnancy and accepting the idea that we could both get fit together after my baby was born. I can imagine doing groundwork once the doctor has cleared you for lifting weight, etc after the baby was born and then, when cleared by the doctor, I could see my horse getting fit along with me. Horses that are turned out will stay in shape pretty well. Another option would be to lease the horse to a friend or someone you trust. The options are almost limitless when doing this-you could choose to keep the horse at your house, you could give lessons, you could allow the horse to go to someone's barn that you trust-the list goes on and on.
Congratulations. Enjoy this time. I loved being pregnant. Keep safe and remember there will be plenty of time for riding in the future. Getting back on after some time off is a little bit like a Christmas present to yourself.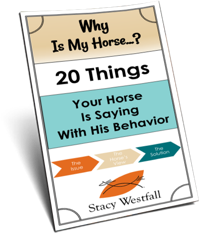 FREE PDF DOWNLOAD
WHY IS MY HORSE...?
No one taught you the skills you need to work through these things.
Riders often encounter self-doubt, fear, anxiety, frustration, and other challenging emotions at the barn. The emotions coursing through your body can add clarity, or can make your cues indistinguishable for your horse.
Learning these skills and begin communicating clearly with your horse.
Click here to learn more.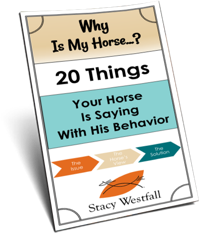 Free PDF Download "Why is my horse...20 things your horse is saying with his behavior"
PDF will be delivered to the email address you enter as will weekly tips from Stacy. Totally free. Unsubscribe anytime.