This is an interesting episode because it is about all the 'other' stuff that can come up during horse training.
When do you take a horse to the vet? When do they need to see a dentist? What about chiropractic or acupuncture? This episode contains a glimpse into how I make these decisions.
At this point Jac has been in training with me for about six weeks and I know him fairly well. Jac was introduced to wearing the bit six hours into his training. If you watch the videos (Episode 18) you will see that overall his mouth is very quite, not chomping or chewing on the bit. Any earlier chewing was consistent with a colt getting used to the bit and went away in a normal time frame.
At over 22 hours in training he showed his first sign of discomfort by grinding his teeth. He did not do it consistently and it was very subtle but it was there. No chomping, just the occasional noise.
Our equine dentist was out of town. I love our regular equine dentist because he is a specialist. He comes through twice a year and has seen just about everything and has a tool for it all. But because Jac was uncomfortable I wanted to take him sooner.
Plus, I had been wondering about the way that Jac carried his head when lunging. Jac's symptoms could also be more than just teeth which is why I wanted to go to someone with an open mind; a vet who also does chiropractic and acupuncture.
Dr. Luckenbill checked Jac over thoroughly including; straight line trotting, chiropractic evaluation; jaw, teeth, muscles, motion palpation, chiropractic adjustment, removal of wolf teeth and floating (removing sharp edges) of Jac's sharp teeth. Dr. Luckenbill didn't see a need for acupuncture with Jac.
The BEST part is that it worked. Jac now has over ninety hours of training and the teeth grinding has not reappeared.
A special thanks to Dr. Luckenbill at The Pony Express Veterinary Hospital for allowing us to video and for helping Jac.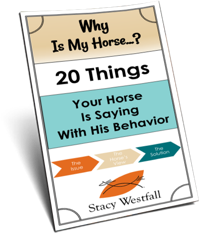 FREE PDF DOWNLOAD
WHY IS MY HORSE...?
No one taught you the skills you need to work through these things.
Riders often encounter self-doubt, fear, anxiety, frustration, and other challenging emotions at the barn. The emotions coursing through your body can add clarity, or can make your cues indistinguishable for your horse.
Learning these skills and begin communicating clearly with your horse.
Click here to learn more.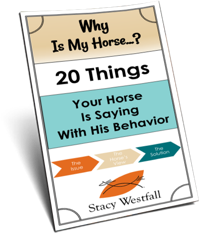 Free PDF Download "Why is my horse...20 things your horse is saying with his behavior"
PDF will be delivered to the email address you enter as will weekly tips from Stacy. Totally free. Unsubscribe anytime.