"Stacy-If I may ask, why the busy legs in the video's? Is Jac not forward? It seems you have to constantly bump?- Sandy A."
Sandy- You are not the first to ask about my 'leg waving' especially now with the Jac series on YouTube. I have never, in my memory, received this question in reference to the 'bareback & bridleless' ride with Roxy…because although the cue system is the same, Roxy was much better at it. Much more experienced.
If you are watching the Jac videos you are seeing a horse that is just learning the system, therefore, it is more obvious. There are times that training a horse is like training a child. In kindergarden the teacher uses greater expression both vocally and visually to engage the kids and make things more clear. With young horses training methods are also more exaggerated.
People expect to see a rider using more rein on a young horse, riding two handed, etc.
What you are describing a 'busy' legs is what I call 'leg waving'. I describe it in detail with great visuals in my Bridleless Riding: How Does She Do That? DVD. I am also posting a video here of Jac that I hope will be a great example of why I am using my legs.
You should notice that in this clip my legs are more subtle than they were in Episode 27. This is because Jac is now able to read more subtle cues…including the 'leg release' or ceasing of my leg waving which was more responsible for this sliding stop than my hand cue. Watch is several time; once for my legs, once for my hand and again for Jac's response.
Now watch Jac's mom, Roxy, and how subtle she was reading the cues. All of the leg cues are there and Roxy is even more animated with her responses.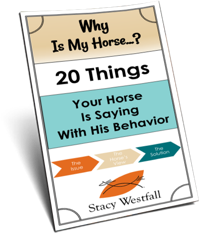 FREE PDF DOWNLOAD
WHY IS MY HORSE...?
No one taught you the skills you need to work through these things.
Riders often encounter self-doubt, fear, anxiety, frustration, and other challenging emotions at the barn. The emotions coursing through your body can add clarity, or can make your cues indistinguishable for your horse.
Learning these skills and begin communicating clearly with your horse.
Click here to learn more.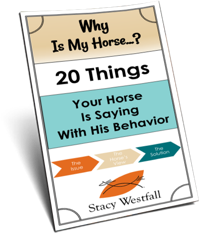 Free PDF Download "Why is my horse...20 things your horse is saying with his behavior"
PDF will be delivered to the email address you enter as will weekly tips from Stacy. Totally free. Unsubscribe anytime.