Our recent move to a very rural area came with one small hitch…no high speed internet connection at home.
I'm on the internet a lot…the question seemed to be, "How will I survive?"
It was bumpy at first. I made mistakes.
I do have a hotspot on my phone…
My iPhoto tried to back up to the iCloud and ate up almost a third of my monthly allowance in one evening. Oops.
Then creativity was needed. Where can I upload Youtube videos from? Turns out the library and coffee shops are both great options…but they are also twenty to forty minutes away.
I have worked in stranger places before though. I have blogged on airplanes, while riding in the car and sitting
on a bucket outside of a stall at a horse show. A coffee shop is a step up from some of those!
During one of my internet session I read a blog that a friend had posted and my mom had shared.
I can't remember why the title grabbed me. Something about a pastor getting a divorce but really it was because two other people, my mom included, had recommended it.
Turns out he was divorcing someone who was, "extremely smart, funny, reliable, and keeps me up to date with all the latest trends. And although she's always by my side…" (for the full blog-click here)
SPOILER ALERT: He was divorcing his phone. Check out some of his recommendations:
1. Learn to balance the time you spend on your phone.
2. Make your phone an accessory rather than a priority.
3. Give yourself limitations as to when and where your phone can be used.
4. Control how you use your phone, and stop allowing your phone to control you.
5. Try spending parts of your weekends unplugged, offline, and away from your mobile device.
I love the internet. It is an amazing tool, not unlike other tools I use like bits and spurs…when they are appropriate. And the best part?
When I walk away from the coffee shop I feel a deeper sense of freedom. The urge to check Facebook… just 'one more time' is gone.
In its place is the knowledge that I have done what I could online for the day and now I am going to spend time with my family and my horses.
Turns out setting limits benefits the horse trainer as well the horse.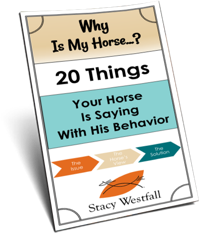 FREE PDF DOWNLOAD
WHY IS MY HORSE...?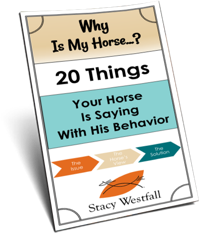 Free PDF Download "Why is my horse...20 things your horse is saying with his behavior"
PDF will be delivered to the email address you enter as will weekly tips from Stacy. Totally free. Unsubscribe anytime.